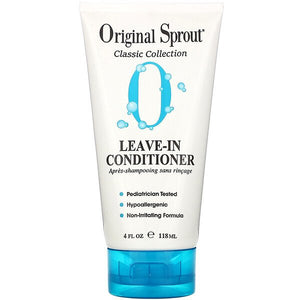 For Babies & Up, this Leave-in Conditioner helps protect against sun & environmental damage. Simply apply to damp hair & enjoy fortified, healthy, frizz-free locks. Strengthens & improves hair structure with vegetable proteins & polymers. Leaves hair & scalp ultra soft & nourished. Does not weigh hair down, improves body, strength & manageability. Use before swimming to help prevent swimmers green hair. Essential for damaged, delicate or tangle prone hair.
Professional Performance
Strengthens, Softens & Hydrates
Pre-swim & Styling Treatment
Protects Color Treated Hair
For Babies, Children & Adults
Ultra Gentle on Eyes & Skin
Gentle pH of 4.5-5.5
Vegan Protein
Detangles
No Rinse
WITH PROTEIN FOR STRONGER HAIR
Worry-Free
Lice & Insects don't like Organic Rosemary but We Love It!
Free of Phytoestrogens Lavender & Tea Tree, Phthalates, Clove (Eye Numbing Agent) & Musk
No Soy, Gluten, Honey, Peanut or Dairy
No Nanoparticles or Titanium Dioxide
No Petroleum Oils & Parabens
No Dioxanes, Sulfates, Hydantoin DMDM (Formaldehyde) & Propylene Glycol
Parfum with Natural Extracts
100% Vegan & Cruelty Free
E.U. Compliant Ingredients
Biodegradable