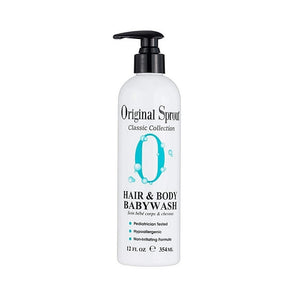 12oz version now comes with pump!

Banish dryness with this 2 IN 1 Babywash! Now everyone is as soft & clean as baby. Delight in frizz-free hair & soft supple skin & scalp, with soothing emollients. Sulfate free moisturizing botanicals & nourishing emollients help wash away itchy eczema, cradle cap & dryness. Scalp, hair & skin are left ultra soft, supple & nurtured. Rinsing is effortless with these extra gentle bubbles. Enjoy!
Shop other sizes: 32oz
Professional Performance
Leaves Hair & Skin Clean & Ultra Soft
Gentle pH for Skin & Hair of 6.0-7.0
Naturally Helps Clear Cradle Cap
For Babies, Children & Adults
Soothes & Clears Dry Scalp
Rich in Moisture
Extra Gentle on Eyes
Easy Rinse
WITH PURE SOOTHING MOISTURE
Worry-Free
Lice & Insects don't like Organic Rosemary but We Love It!
Free of Phytoestrogens Lavender & Tea Tree, Phthalates, Clove (Eye Numbing Agent) & Musk
No Soy, Gluten, Honey, Peanut or Dairy
No Nanoparticles or Titanium Dioxide
No Petroleum Oils & Parabens
No Dioxanes, Sulfates, Hydantoin DMDM (Formaldehyde) & Propylene Glycol
Parfum with Natural Extracts
100% Vegan & Cruelty Free
E.U. Compliant Ingredients
Biodegradable