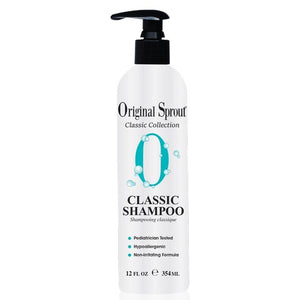 Our Classic Shampoo is sulfate-free and infused with calendula, rosemary, and arnica. The moisturizing botanicals and nourishing emollients help get rid of any product build-up so you are left with squeaky clean strands! Apply a nickel-sized amount to hair, lather, and rinse. Enjoy shiny, healthy hair.
Professional Performance
Gentle pH of 6.0-7.0
For babies, children, and adults
Key ingredients: rosemary, calendula, and arnica
Detangles and conditions
Helps protect color-treated hair
No soy, gluten, honey, peanut or dairy
Vegan product
Worry-Free
Lice & Insects don't like Organic Rosemary but We Love It!
Free of Phytoestrogens Lavender & Tea Tree, Phthalates, Clove (Eye Numbing Agent) & Musk
No Soy, Gluten, Honey, Peanut or Dairy
No Nanoparticles or Titanium Dioxide
No Petroleum Oils & Parabens
No Dioxanes, Sulfates, Hydantoin DMDM (Formaldehyde) & Propylene Glycol
Parfum with Natural Extracts
100% Vegan & Cruelty Free
E.U. Compliant Ingredients
Biodegradable