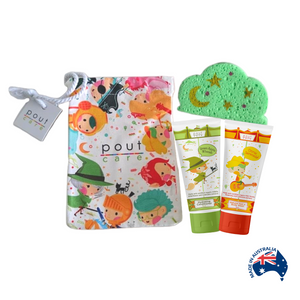 The pout Care Toiletries Kit is a perfect way to bring along your favourite products. With an exclusively designed woven pouch that's just the right size for all your essentials, it's now easier to travel with pout Care!

The Toiletries Kit contains the following:

pout Care Citrus Serenade Natural Hair & Body Wash 75ml tube
pout Care Green Apple Whoosh Hydrating Conditioner 75ml tube
pout Care exclusive Bathing Sponge 11.5cm (w) x 6.5cm (h) x 1.5cm (thickness)
pout Care exclusive Travel Pouch 15.5cm (w) x 20.5cm (h)

Use the Kit as is, or for your own personal items. Perfect for travelling or as a gift for loved ones!