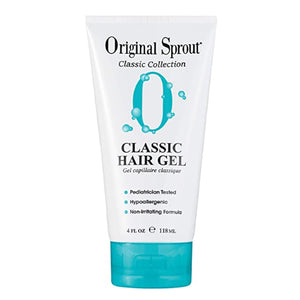 For babies & up, everyone loves this Classic Hair Gel. Clean feeling, medium hold makes frizzies & flyaways smooth & stay in place. Strengthens & softens without sticky residue. Helps prevent breakage & detangle naturally. Free of added fragrance, natural ingredients smell tropical & yummy. For all hair types, including dry or delicate hair. Enjoy stronger, softer hair with Sprout!
Professional Performance
For Thicker, Smoother, Healthy Hair
Strengthens, Softens & Hydrates
For Babies, Children & Adults
No Flakes or Sticky Residue
Gentle pH of 4.5-5.5
Naturally Detangles
Easy Rinse
Frizz-Free
Parfum-Free
ENJOY CLEAN HOLD & THICK LUXURIOUS HAIR
Worry-Free
Lice & Insects don't like Organic Rosemary but We Love It!
Free of Phytoestrogens Lavender & Tea Tree, Phthalates, Clove (Eye Numbing Agent) & Musk
No Soy, Gluten, Honey, Peanut or Dairy
No Nanoparticles or Titanium Dioxide
No Petroleum Oils & Parabens
No Dioxanes, Sulfates, Hydantoin DMDM (Formaldehyde) & Propylene Glycol
Parfum with Natural Extracts
100% Vegan & Cruelty Free
E.U. Compliant Ingredients
Biodegradable